The New Zealand Government has recently developed Protecting Our Crowded Places from Attack: New Zealand's Strategy (the Strategy) to help owners and operators of crowded places protect the lives of people working in, using and visiting their crowded place.
This is all about protecting the people that attend visit a crowded place. Crowded places are locations that large numbers of people access easily and predictably. They include sporting arenas; transport hubs and public transport; buildings and offices; schools, shopping centres, restaurants, hotels, theatres, and other entertainment venues, community festivals and markets, houses of worship, tourist attractions; and civic spaces. Crowded places also include open spaces like busy urban streets, parks and pedestrian malls.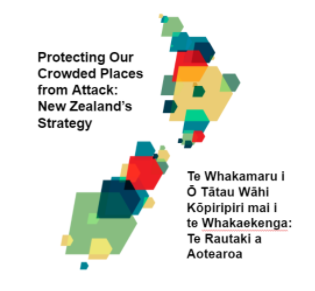 The Strategy, led by New Zealand Police was initially published in late 2020 and includes a number of guidelines and tools that can be used by owners and operators as well as professionals. 
The publications, made public with a soft roll out are based on resources developed by the Australian Government Australia-New Zealand Counter Terrorism Committee (ANZCTC) and brought up to date with some excellent resources from the United Kingdom Centre for the Protection of National  Infrastructure (CPNI). The resources have been contextualised for the New Zealand environment. 
Why do we need this?
Crowded places have been a target for attackers. We have seen this from the attacks in New
Zealand at the Al Noor and Linwood Mosques, Christchurch (March 2019);  as well as numerous attacks overseas. Manchester Arena, United Kingdom (May 2017); Finsbury Park, London Bridge and Borough Market, United Kingdom (June 2017); Bastille Day parade, Nice, France(July 2016); Berlin Christmas market,Germany (December 2016) and many more where attacks caused significant loss of life and fear in the community. 
These attacks have been glorified in propaganda material shared by subversive individuals, with some people viewing these attacks as worthy of emulation and calling for potential attackers to target members of the public in crowded places.
New Zealand has also had, and continues to have, attacks of a non-terrorist nature. Recent examples include the attacks on staff members and shoppers at a supermarket in Dunedin on May10 2021 and the gang confrontation involving firearms, at a 5-star Auckland waterfront hotel in April 2021.
In most cases, the large volume and concentration of people at a crowded place is what makes it an attractive target, rather than the location itself. Attackers may focus on crowded places for several reasons including ease of access, a high concentration of people, greater harm including psychological effect on a population, greater media attraction, social media as a magnifier of cause and the effect. 
What to do?
In essence, what to do? is encapsulated in the following graphic developed by the NZ Government.

The guidelines and tools provide a consistent approach. They are designed to help owners and operators of crowded places reduce the chance of an attack occurring, develop resilience and lessen the consequences, while using proven methods that are proportional to the threat.
The tools allow owners and operators to:
Conduct self-assessments of the likelihood and consequences of an attack 

Better understand how to Deter, Detect, Delay and Respond to an attack

Assess the level of protective security needed.
The escape, hide, tell advisory framework is the recommended approach that people should take if they are involved in an attack at a crowded place. 
Self-Assessment Tool

. Use this tool for an initial assessment of how attractive your location may be to an attacker. The eight questions in this tool focus on factors that attackers are likely to consider when looking for a target.

 
Assessing Protective Security Tool: Use this tool to aid your thinking about how to best protect your event from attack, and to support you to make improvements. The ten areas of focus in this tool will help you to consider factors that attackers take into account when they are looking for a target.

Security audit

:

This audit is very comprehensive and is designed to be used only after you've completed the self-assessment and vulnerability assessment tools. This should be carried out by, or in conjunction with a security professional. Use this audit to; check which security matters are relevant to the type, size and risk profile of your crowded place, and its attractiveness to would-be attackers; identify any security gaps that you need to resolve at your crowded place; record the actions you plan to take to resolve security gaps.
These tools can be found at the following address; https://www.police.govt.nz/advice-services/protecting-crowded-places-attack/prepare-your-crowded-place
Coming up…
In the next publication we will look at the available guidance resources such as;
Detecting and Responding to Hostile Reconnaissance

Types of attacks

Suspicious Activity Identification